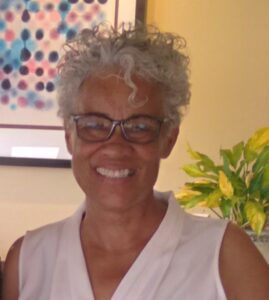 Regina Edington is a head and neck cancer survivor. During her cancer treatment, she suffered the terrible acute toxicities of radiation, rendering both communication and swallowing issues. Since her treatment, she has recovered from both but continues along the survivor journey battling lymphedema and late-stage treatment toxicities. While Regina has recovered from her communication challenges, she still faces the challenge of Xerostomia, or dry mouth.
A very dedicated patient, Regina attended her cancer rehabilitation sessions consistently, meeting every challenge courageously. She was excited at the idea of helping others and she took on the role of primary facilitator of a local support group for people with oral, head, and neck cancer. She paved the way toward an oral cancer screening day in Lincoln with door-to-door campaigns and the collection of donations. She also found a local group to help market the program. Regina continues to be a leader to help others afflicted with head and neck cancer.
The Nebraska Speech Language Hearing Association is proud to bestow the 2022 Better Hearing and Speech Award to Regina Edington.